******URGENT URGENT VENUE FOR SUNDAY 22 & 29 January 5,12 & 19 February******
As has been mentioned at meetings recently The City of Perth has decided to use the Piazza for its own purposes over the next 5 weeks. This is for The celebrations of Chinese New Year and for use as a Fringe Festival Venue.
God has provided a wonderful venue in the Heart of the City for the interim.
As you probably know Open Arms Fellowship is an Independent GLBTIQ Affirming and Welcoming FAMILY Church, open to everyone; which means we are not aligned to any denomination. The exciting thing is that in our time of need our sister church in the city has welcomed us and made available a magnificent venue for our meetings, so that there be no break in our ability to meet as a church family.
The Uniting Church In the City UCIC has kindly provided access to their Centre Meeting hall and the directions are as follows:
The UCIC building is located on the corner of Murray St and William St diagonally opposite the entrance to the underground railway station on the Murray St Mall.
The entrance is located at 97 William St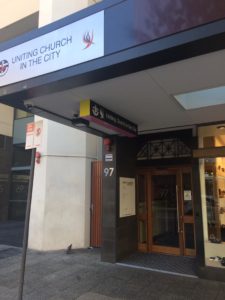 As you approach the doors they will automatically open. There is no need to pull on the doors and doing so may cause damage. They are wide enough for wheel chairs and make the building accessible.
*
*
*
*
*
*
*
*
*
*
When you enter the Foyer this is what you will see: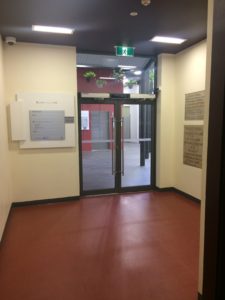 *
*
*
*
*
*
*
*
*
*
*
*
*
*
*
*
Continue making your way through and allow the doors to open for you. AS you can see through these glass doors there is a lift facing you as you enter the Atrium: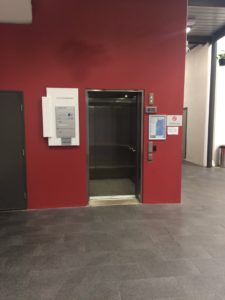 *
*
*
*
*
*
*
*
*
*
*
*
*
*
*
*
Take the lift to the first floor.
As you exit the lift turn left an you will see the entrance to the meeting place straight ahead, the door will be open for you to enter: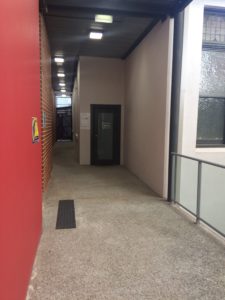 *
*
*
*
*
*
*
*
*
*
*
*
*
*
*
*
*
*
Please feel free to bring as many people as you can as this is quite a large venue.
If you've ever thought about coming along at some time in the past, this is a great time to do so.
We extend a great big THANK YOU to our Brothers and Sisters at UCIC for their generosity and hospitality in our time of need.
Either way, we rejoice because God has greatly provided for our needs as he promised he would.
Praise God, Amen!