June 22: Hindrances To Healing part 1
It is always God's will that his people be healed.
When we pray for someone's healing Jesus has promised that the healing would be there for them.
However, even Jesus could do no mighty work in his own home town; except heal a few minor ailments. Yet, in Acts 10:38 we are reminded that "God annointed Jesus of Nazareth with the Holy Spirit and with power. Who went about doing good and healing all who were oppressed of the devil. For God was with him."
So, in this simple phrase we are given both the source of all sickness and we are also given insight to God's will regarding sickness and disease; because we know that Jesus was the complete expression of the will of God.
Yet, there are those who do not receive the healing as promised. Or, worse still, are those who receive their healing, but lose it soon after receiving it. Why?
The favoured position of the religious, not dissimilar to the position of the pharisees in Jesus day; is to say that: "Healing has passed away. It was needed for the early church. But, God wants to teach his people and uses sickness and disease."
Well, that sounds more like an excuse to me than anything else. A reason dressed up in a lie, is still a lie. Because, if that were so, then Jesus is a liar, God is a liar and all of the writers of the New Testament are liars. To say that God is an unchangeable God, yet he doesn't heal today is a contradiction.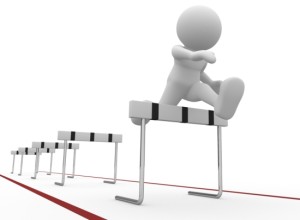 Well, the truth is that God hasn't changed, Jesus is the same today and the Holy Spirit is no liar. God heals and desires good health for all his children today. But, that doesn't answer the question as to why some get healed and others don't.
As we study the Word of God we start to get a better understanding of how and why healing comes in the same way as any other gift from God comes to us; by faith.
So, like everything else we receive from God, we need to be aware that there are things that can block our ability to receive from God. In this teaching we consider some of the more common hindrances to healing and also ways to overcome and defeat them; so that we can live the abundant life that Jesus said he had come to bring us in John 10:10
To download this important message click on the following link and save the linked file to a directory of your choice on your computer. Otherwise your browser will open up with a player to simply listen online.
Image courtesy of: The daily hurdles of a travel technology director [think many]