May 4: The Prayer of Worship
This week we examine the role and purpose of worship in the life of the believer.
It is important to understand the distinction between Praise and Worship. Although these are not meant to be a set of legalistic rules that constrain. Rather, the intention is provide a clearer understanding of the different phases we can move through in both our personal and our corporate prayer life.
Worship provides a distinct opportunity to minister to the Lord himself; to come into his presence for no other reason than to simply honour and thank him for all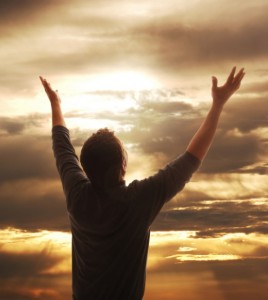 that he has done in our lives. We do not enter into worship looking at what we can get. It is in fact centred around an attitude of being attentive to and spending quality time with our father.
Sometimes worship can be more about the stillness than what is said. It is about simply basking in the presence of God; soaking; being immersed in the opportunity to spend time in the peace of God.
In the Old testament one of our best examples of the changes that can occur, even physically is the story of Moses. After spending 40 days in the presence of God on the mountain and coming down with the tablets bearing the commandments Moses face was so transfigured that the people could not look at it.
Now, under the New and Better covenant we have become the dwelling place of the Holy Spirit and are transformed outwardly in our actions and our words by virtue of the time we spend in God's presence.
Be renewed, strengthened and learn to be effective as a believer by spending that time practising the presence of God in Worship. You won't regret it.
To download this important message click on the following link and save the linked file to a directory of your choice on your computer. Otherwise your browser will open up with a player to simply listen online.