May 25: Prayer School: Intercessory Prayer
In this final teaching of the Prayer School series we bring together all of the kinds of prayer we've studied so far.
Intercessory Prayer is not something to be taken lightly. It is an important business. However, all of the members of the Body of Christ are called to be involved in intercession in one form or another. In fact in ITim 2:1 Paul instructs Timothy, a young pastor he ordained that the FIRST thing he needed to do and therefore WE likewise need to do is pray for our leaders.
This prayer is an apolitical action; it does not require you to be a supporter of the particular group holding the power. It is also a very good way to learn how to keep your flesh under control; especially if you do not like what the government are doing. Instead, it is the way that you can enable God to have the changes made that are required for you to live peaceful and successful lives in this world.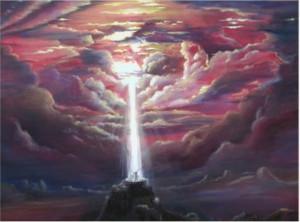 A key to success in this form of prayer is the baptism of the Holy Spirit with the evidence of speaking in "Other Tongues." This is because when you come to the point where you have exhausted your personal knowledge about how to pray for an issue the Holy Spirit provides the ability and the language of perfect prayer to continue to  "Ever liveth to make Intercession on our behalf." Heb 7:25 
Image: "Intercession Through Worship" by Kathy Brusnighan, Greensboro, NC – United States
Additionally, as Praying in the spirit is the gateway to experiencing the other gifts of the Spirit, the use of this ability provides a way for God, by his Holy Spirit, to show you, or inform you about what you have been praying for and also giving you the unction to either continue or to inform you of success.
One of the most important principles behind Intercession is an understanding that the things that we perceive with our senses; that which we see and feel were given birth, originating in the spirit realm and brought to fruition by the Force of Faith. Heb 11:3 
Throughout the Old and especially the New Testament we learn that it is the responsibility of human intercessors to provide the access that God needs to be able to make the changes necessary for his people in this world. Anyone who has been born again, any revival that has occurred, any miracle that happens does not 'just' happen. All have been given birth to in the spirit first.
Intercessory prayer changes lives, helps us to grow in spiritual matters and enables us to mature as believers as we are forced to take our eyes off of ourselves and what is happening in our own lives and to concentrate on what is happening for others.
Everyone can and should be an Intercessor. But, not all are called to the ministry of the Intercessor. It is a high calling that requires a great deal of faith and a deeply intimate relationship with God. The ministry is done in private and out of public view. But, every public endeavour that gives glory to God has an intercessor, or team of intercessors to thank for the hours and days of prayer they have put into the birthing of that endeavour.
As I've said previously in this series, it is important for prayer to be successful that the desired outcome is thought about and based on the word of God. This is to ensure that there can be agreement, that everyone can be praying for the same outcome and not simply be spraying the heavens with un-targetted prayer bullets.
Since faith is the result of hearing and meditating on the Word of God by ensuring you have the word backing you, then you can be confident that you are praying in line with the will of God and can appropriately apply and see your faith as it is applied and put to work.
To download this important message click on the following link and save the linked file to a directory of your choice on your computer. Otherwise your browser will open up with a player to simply listen online.
To assist you to pray effectively, with your understanding, in line with the Word of God, for the leaders of the nation I have provided a copy of the Prayer Sheet: "Prayer for the Leaders of Our Country" I would advise printing a copy of this 2 sided A5 prayer sheet, possibly laminating it and keeping it with your bible and your note book for your prayer time. To download the Prayer sheet click on the following link.
Prayer For The Leaders Of Our Country